Helping you sell houses with signs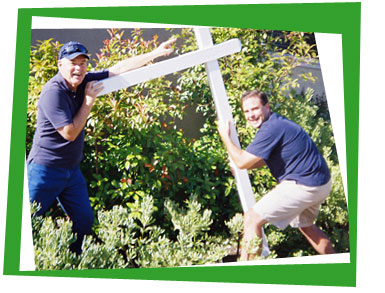 Visible Signpost Service started with a few posts in Los Altos back in 1982. Since then, we've grown to cover both San Mateo and Santa Clara Counties, and to know a lot of agents. And after 23 years, we really know the area too, even with the new developments that keep springing up all over.
But more important than our history and knowledge is our understanding of what's important to you as an agent selling homes: time, quality and service.
Time really is of the essence
When you list a home, you want to get the word out fast, both to potential buyers and to potential clients. That's why we offer super fast turnaround. We can even do same-day service on orders placed before 10 a.m.!
But quality counts too
We know you're working hard to keep your clients happy, and we consider ourselves part of your team. That's why when we show up to place a sign on a homeowner's property, we're friendly and courteous to your clients.
We also pay close attention to the appearance of your signs. Our posts are freshly painted, and we install straight and tall. Slouching signs are forbidden! We clean your sign with an industrial-grade cleaner. We also make sure your sign is as visible as can be (hence our company name!).
And, yes, we also go overboard on service
Not only are we fast and fine, we're also convenient for you. We install and take down. We clean up after ourselves. We store your signs and name riders at our warehouse, and even pick up special name riders from your office when needed.
For fast, fine, first-rate service, make Visible Signpost your sign installer.